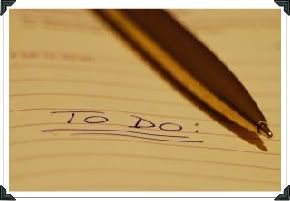 To-Do List: Week 2
1. Track your weight (Done)
Done, I lost 4.4 pounds. But remember this is week one.
Funny story though: when I first weighed in today the loss recorded in my book was 15.3.
Yeah - okay. I'd take that until I had an unexplained 9 pound gain next week!
2. Create a meal in the PointsPlus Tracker (Going to do)
Not even done a little bit.
Going to add some of my favorite breakfasts though.
Soon.

3. Make one small change to a favorite meal or snack (Going to do)
My go to snack at work is yogurt.
Good choice? Yes Filling? No
Now that fruit is "free" I've invited it along to the party.
Of course I think the idea is to make a healthy exchange so: maybe I'll try:
Asparagus "Guacamole", Mashed Cauliflower or buying shirataki tofu noodles for regular pasta

4. Stock your pantry (Going to do)
Going shopping this weekend.
Just re-read that. Weekend. Shopping.
Wish me luck.

5. Check that your weight-loss expectations are realistic. (Doing)
Looks like this one will be along term "doing"
To me, this item was more about staying motivated and not expecting too much of yourself.
(like losing 15 pounds in one week)
I've been wanting to try a little projecect with myself, so I think it's time to get to it:

I will need:
2 glass containers
100 marbles

Each day, I'll determine whether or not I followed the program (remember, that doesn't require perfection, just tracking, meeting good health guidelines, getting active). One of the containers will be for the days when I was on program (OP) and the other for days I'm not. I'll place the marbles accordingly. At the end of 100 days, I'll see just how "good" I've been.
That's my list for this week. What steps are you taking in your healthy journey this week?