Yes, decided I couldn't take any bad news this week, so I opted to not weigh in. That's okay - it says so right in the book! I knew between the lack of activity I've had because of my knee, and the emotional eating I've done for reasons we haven't yet discussed, I did not want to hear what that scale had to say!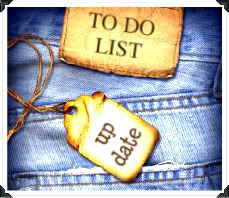 Instead, I'll just update this week's to-do list:
#1 Done. I added in the Smoked Turkey Cobbler featured in this week's recipe review. I made a few adaptations after learning the original
PointsPlus Value
was 11. By swapping light butter for regular and skim milk for whole I brought it down to 9. Since I loved the filling and didn't care a lot for the biscuits, I may play around with lower points toppings for this delightful dish.
#2 I do this pretty regularly already This week's planning was pretty easy. I had done most of my shopping for this week's menu on my last trip to the store. You've seen my dinner menu, so let me share what I do to plan breakfasts and lunches:
Breakfast is a rotation of: cereal with fruit and milk//homemade breakfast sandwich//pb on toast with banana
Lunch is either: WW Entree//Soup & Sandwich//Take-out (usually once a week on Wednesday)
Snacks are: Yogurt//Fruits//Cut Veggies//Snack Bar//Dark Chocolate
I try not to have a lot of leftovers, because I know I'm not good about using them in the above rotation. So if I have something leftover, I have to plan to use it. The extra veggies from last night's Scallop, Corn & Tomato salad will be topped with tuna for an easy lunch. More substantial leftovers like lasagna or chicken will be weekend lunches when everyone is busy with activities on Saturday. Finally, I plan for one high points day when I make a big "family dinner" on the weekends.
As part of this to-do challenge, I will actually lay out which day I'll have what breakfast/lunch/snack and dinner and make a list accordingly. If I feel ambitious (or detect any interest in such a thing) I'll certainly share!
#3 No way this is a one day/one post or even one week assignment. This is ongoing for me. Guess this one stays on the to-do list for good.
#4 Okay, I've certainly eaten them in a dish such as dip before, so I'm not sure they qualify as "new" but I want to try using artichokes! I think I'd like to try them stuffed, but haven't fully settled on a recipe yet. First step: buying them!
#5 The ideas from Weight Watchers:
Mashed Cauliflower for Mashed Potatoes (I actually might try this over the weekend!)
Vegetarian sausage links for pork, beef or turkey (and maybe this too! I just won't tell anyone)
WW smoothies for ice cream (maybe when it's above 20 degrees)
Endive leaves for tortilla chips (d'oh! this could have been my new veggie!)
Asparagus guacamole for the real deal (this could actually work for us, we love asparagus!)
Fat Free Greek yogurt for Sour Cream (Definitely trying this!)
Shirataki tofu noodles for regular pasta (Want to try this, and actually found some!)
Olive oil spray for regular olive oil (already doing this)
97% fat-free hot dogs for real dogs (maybe when grilling starts up!)
Fresh dates for candy (would this count as a new fruit?)
I think what I should do is make #1, with #6! Or #4 with #5! Then I can use #7 with my new vegetable, artichokes (steamed, quartered and tossed with olive oil) for a quick and easy dish!
You're right, that sounds way more ambitious than I feel. But how about you; have you tried any of these substitutions? Do you have any sneaky ways of your own for cutting calories?