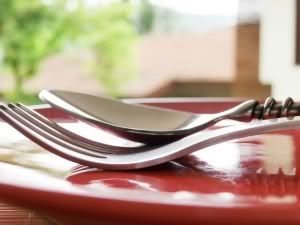 I've become one of those people.
The people that find a bargain at the grocery store and buy it.
As many of it as they will allow me to put in my cart.
And then it sits in my freezer/pantry/etc.
So this week I challenged myself to spend less than $20 on fresh produce and dairy and get everything else from what I already have.
So far I've spent less than $10 of that, which is good because I think I need some veggies.
Menu
Monday

- Retirement party
Tuesday
- Cordon Bleu for Two, Garlic Couscous & Steamed Veggies
Wednesday
- Beef & Noodles (with grandma's homemade noodles!) & Tossed Salad
Thursday
- Scallop, Corn & Tomato Salad
Friday
- Beer Soaked Beef, Peppers & Southwestern Corn
Saturday
- Eating Out at Home (Mexican Night)
Sunday
- Turkey, Roasted Winter Vegetables, Tossed Salad and Olive Bread
What's on your plate this week?