Hopefully you have all read
Saturday's post
that explains why I'm off my blog schedule. Well, let's face it. I'm not that good at keeping a schedule, but I am trying.
So it is Monday after all, which means it's time to figure out what I'm eating this week.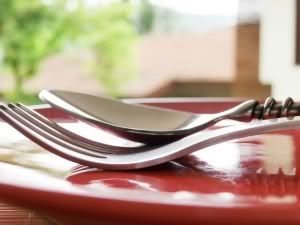 The eating part isn't so hard. I can do that sitting down.
The cooking part is a little more of a challenge.
But here it is anyway. A combination of stuff I didn't cook
last week
and stuff I can do without having to stand for an hour.
Monday - Chinese Take-Out
Because my Weight Watchers leader told me to eat out this week, that's why.
Tuesday
- Scallop, Tomato & Corn
Wednesday
- Slow Cooker Lasagna
Thursday
- Hunter Style Chicken w/ Potatoes
Saturday
- Braised Pork Loin, Mashed Potatoes, Glazed Carrots & Homeade Rolls
Sunday
- The Boy's Choice (Birthday Dinner)
In all honestly, Friday Saturday and Sunday are a bit questionable. I don't know for sure which day we'll be celebrating, which meal our company would prefer on Friday, and which will be left for the other time slot. So we'll take a post-it note approach to this week's menu and be happy with it!