Actually I can, but yesterday it was questionable and it was all because of Wednesday night. I had just finished watching the "live" episode of Ghost Hunters (I don't recommend it if you a: thought it would be live or b: are as creeped out by disembodied voices as I am) and headed to bed. Upon getting there, (around 10:25pm) I realized I had not yet completed my daily appointment with a Crest Whitening strip. I decided I could catch a rerun of Two and A Half Men while wearing the strip since both take approximately 30 minutes. The next thing I remember is 3:00 am. That's right, my 30 minutes strip turned into four and one half hours. Now if you've used them, you probably remember the bit on the box that says wearing them for more than 30 minutes will do no good because they stop working after that time. Well I might have to disagree considering the impossible amount of discomfort I experienced upon waking yesterday. I literally could not stand to open my mouth outside because the air was too cold. Just ask my mom, I told her I had to hang up on our phone call before I got out of the car to walk to the house. I even sat down to research remedies and basically found a lot of people telling me that sensitive teeth were the price you paid for white ones. Well after this experience, I may have to give up coffee and white wine so I never have to wear the dang things again.
Now you may be wondering why I even bothered to whiten my teeth at this particular time. Or maybe, if you saw me this week, would wonder why I'm looking tan or how come I got my hair colored on Tuesday. Well the answer, in one word, is
prom.
Yes indeed, I am headed to prom tomorrow. No, I'm not on a reality show with 20 of my high school classmates. No, I'm not chaperoning a local school. I am going to Grafton, IA's annual Adult Prom and yes, it is everything you are currently imagining. No one has to sneak booze in or spike the punch - it's already spiked and sold as jello shots for a buck. Yes, there are people from the age of 18 to 88 there, and most of them show up in dresses that could have been straight out of their high school yearbook. There is even a competition for best retro dressed, and the cheesy photography packages that get printed with the theme andthe year on the overpriced pictures you buy. This is actually my third year of attending and as always I can't wait.
What's that? What does my dress look like you ask? Well, head over the
JCPenney.com
to see it. This was the second dress I tried on this year and even though it wasn't a consignment store find (1st adult prom) or an on-clearance LBD (2nd adult prom) I had to have it. It was fancy enough for my taste, sexy enough for Merv's taste and so incredibly comfortable. The material is soft and forgiving and since I'm a little more
Venus de Milo
than
Twiggy
this dress looks completely different on me, but I absolutely love it. In fact, I'm playing up the almost greek/roman feel of the material and gown with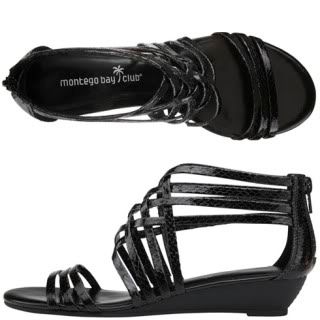 these cute, comfortable (& cheap )mini-wedge gladiators. I'm so happy with myself for choosing a shoe that I can wear all night, shouldn't break anything in and I can wear all season.
Also complimenting the look will be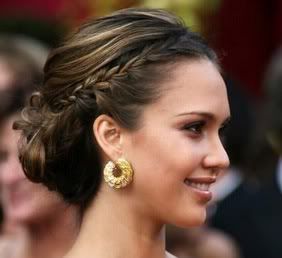 braids in my up-do a la Jessica Alba here. I'm a little intimidated by this idea, but I'm sure I can pull something off. I'm actually more intimidated by the fact that I'll be spending the evening with a real-life hair dresser so she'll know exactly how it should be done. That's ok, she hasn't judged me before (or if she has, she's never done it out loud).
So that's it - what I'll be doing tomorrow night from 4pm until we shut down the Cozy Corner in the wee hours of Sunday morning. Wish me luck - maybe I'll finally be prom queen afterall. Pictures are sure to come, so keep watching. And if you live in the Grafton area,
come join me!
(details)
And if you're a local friend, check with me soon for details about a second chance prom right here in Iowa City.