Dear MTV, make me a skinny girl.
Oh that's right, the show isn't actually magic, is it? In that case, make me a fitness instructor. My reasons are simple:
• I adore my instructors
• I don't know an instructor that isn't a skinny girl.
I've been attending cardio classes for 9 weeks and the two instructors I've been sweating with are incredible. Diana and Jamie don't just have amazing bodies, they have amazing attitudes. I'm sure like anyone they have days that require them to put on their best face and leave their problems at the door, but they are
really good
at it. They make working out enjoyable (or at least passable) while assuring me that the workout is just as hard for them. Okay, honestly it's probably only a minor struggle, but they have a way of making me believe otherwise. They are encouraging and flawless and human and sweaty all at the same time.
Those are the qualities I could all use in my daily lives. Minus the sweat. They are the traits that I can employ while I work, dose out while I deal with my boyfriend and engage while I enjoy friends and family. The people in my life deserve this side of me.
So MTV, make me a fitness instructor. Put me through weeks of vigorous training so that I can be a sweaty ball of support for others. If I happen to lose a few pounds and tone up this body, that's even better. I mean who's going to believe that I'm a fitness guru if I don't have the body for it. If you have to throw in a spray tan, that's okay too. Wait – that might be my other dream: to be made into a professional ballroom dancer.
This entry is part of Mama Kat's Writer's Workshop. This exercise into our creative side is hosted every week by Mama Kat. Click the button to head over to her blog and play along!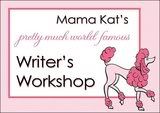 This week's entry was in response to prompt #3: I Wanna Be MADE! You remember the MTV series where nerdy high school kids are made to be popular and what not? If you could be MADE into anything…what you be made into?