What a fun day I'm having on this, my first attempt at Follow Me Friday. I happen to be blog hopping around from the event hosted at Trendy Treehouse.
(Oo look, clicky linky button)
I've already come across a super idea for this weekend! I found it at
Piggy Bank Dating
which is possibly my favorite new blog of the day. Dating on a budget? Always a good idea.
Now I bet you're wondering how else I'm going to fill my weekend. Well, tomorrow morning I'll be going back for "Week Two" of Weight Watchers. Yes, I finally went back to a true meeting. I chose a different day and time because I thought it would make it fresh again for me. I also can't bring myself to skip a Body Attack class to make my old meeting time. When I showed up they had to re-enroll me (even though I have kept my monthly pass the entire time) so I figured I must be starting over. So I will be waking up bright and early tomorrow to make a 7am weigh-in and meeting.
Next up I'll be working at my day job (the bank) from 9 to noon. Saturdays aren't really that bad since the traffic is generally slow, allowing me time to check in on the
SITS girls
and read through this week's ads in the newspaper. The latter is one part vitrual shopping and one part planning on my part. I'm sure I'll get a little work done as well, but as I "shop" and plan I'll be thinking of Sunday's activities. Hold on! I'll get there.
After work I'll be going shopping for Easter Egg dye kits and food/party supplies. Those two items will come in handy later. Before the fun can begin though, a little housework is in order. I'm the kind of girl who likes to structure her week in a way that minor skirmishes with dirt happen all week but the epic battles are all done on Saturday. (You can take that however you want, but it keeps my house clean).
Depending on the time, I may go from scrubbing the shower to using it as I get ready for a little Wine & Cheese show that I'll be attending with Merv. It's a four hour event, but I'm not sure it would be a good idea to stay and sample the entire time, so perhaps we will find something truly special and bring it home to share.
As we dye easter eggs! That was the cute idea I picked up from the Piggy Bank Dating blog I mentioned above. I may hold that one until next week, because really I need to spend time making
these cute little things
. Don't worry, photos will come next week :) And when I make those deliciously cute little treats (which I will top with Peeps). Then I'll be saving them for dessert on Sunday...
... a day that promises to be another full and fun one. I'll be trying Rachel's Orange Pecan French Toast Casserole from
Me Myself & Pie
. Of course I will have started that the night before, but the serving/eating will be the best part, I'm sure. Following that will be Palm Sunday Church, which I likely won't be singing in the choir for as my cold is still lingering. After church we'll be sitting down to Easter Dinner, exactly one week early. The kids will be spending Easter with their mom and her family though, so we'll be diving into Leg of Lamb and as yet to be determined side dishes this weekend.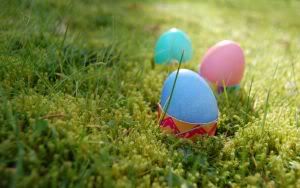 I'm also hoping to have an Egg hunt, but since the kids are all above the age of 12, we'll see what that turns into.
P.S. Do you like lamb? Because I guarantee we'll have too much of it.
Feel free to invite yourself to dinner.
Seriously.