More than a week later, here it is: My bedroom's makeover was complete last Saturday and I have enjoyed it so much! Here's a little before and after for you:
(BEFORE)
The Boring Wall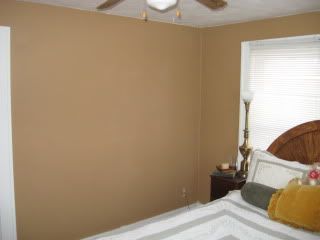 (AFTER)
My Own Pretty Art Project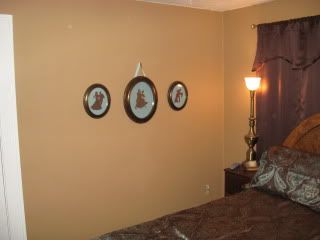 Because we love dancing and have taken ballroom lessons, I chose silhouettes of dancing couples. They are cut from stiff brown paper and placed over fabric that matches the bedding.
(BEFORE)
The Tired Bed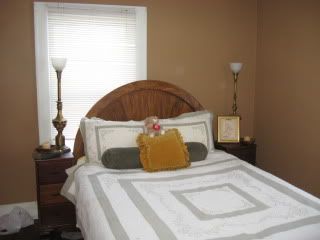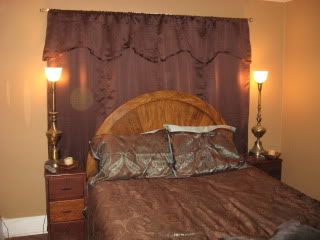 I "doubled" the window to balance the wall. I knew I would love it, but Merv wasn't convinced (until it was done!) And yes, I really do need bigger pillows in those shams... plus MORE OF THEM!
(BEFORE)
The Functional (and plain) Corner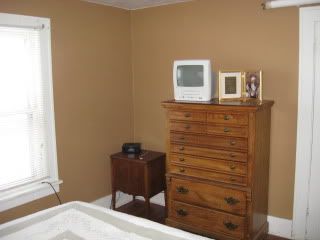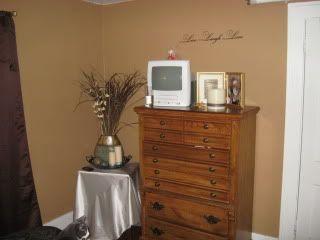 Can you spot the hidden items?
(1)A lazy cat (2) A teddy bear (3)The glass of water I needed after all that work (4)Airplane (5)iPhone

The last picture is probably my favorite transformation. I love the way the entire room turned out but this space was a pleasant surprise. Merv actually chose everything on the small table (aside from the fabric) and found it all on sale! We got rid of the alarm clock as we never used it because we always set our phones to wake us. Some day I plan to replace it with an analog wall clock, but I haven't found the one I love yet. I also hope to replace the old TV (or remove it altogether) but we aren't there yet either. The entire room came in just under $300. Maybe it would have been even cheaper if we'd spent more time shopping around, but I loved spending the time together to select & buy the items and then put them in the room. Great Valentine idea indeed.
Finally, here's a better picture of that lazy cat,(his name is August) and a close up of the bedding design: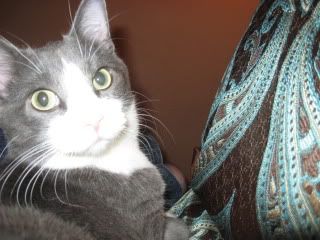 This was taken as I collapsed onto the bed following all of the finishing touches. Someone thought he needed to collapse too, it is hard work supervising afterall.