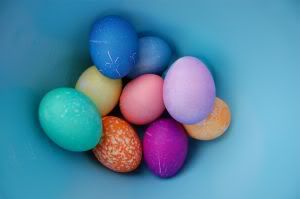 Do you, like probably half the households in America, have a truck load of pastel or brightly colored eggs at your house? Read on, Easter survivors, read on. It's time for another round of Thrifty Thursday. The day of the week when I take all of the advice I've gleaned during the week and filter the best of it to you.
WHAT I FOUND:
If you eye those hard boiled eggs every morning thinking they'd make a nice breakfast,
this article from All Headline News
can tell you why it's a great idea.
WHAT I GET OUT OF IT:
Other than a way to use up some of those leftover eggs, a new motivation to make time in my morning routine for a breakfast that includes eggs. In fact, I think I'd like ot try having at least one egg or egg product in my breakfast everyday for a week to see how it effects my hunger and weight loss.
WHAT I FOUND:
Support for snacking!
(And while the article doesn't center on eggs as much as the previous find, they play a supporting role.)
WHAT I GET OUT OF IT:
Just some excellent snack ideas. I am definitely a "type of food" snacker. I crave salty (soup), sweet (half grapefruit sprinkled with brown sugar and broiled) or creamy (Jello-O Mousse Temptations) so the list of ideas they provide is categorized nicely. As a plus, they provide one more way to get rid of those eggs - hard boiled egg for an 80 calorie snack!
WHAT I FOUND:
A dieter's guide to dessert.
Because let's face it, snacks are not really the course I have trouble with, it's what comes after the dinner that my or may not include eggs.
WHAT I GET OUT OF IT:
All of the tips are helpful, though possibly difficult to implement in my life. The one that hit my the hardest though was tip #4: Know dessert when you see it.
Alright, looks like I've focused too much on food here, how about some fitness?
WHAT I FOUND
:
For Better Muscle Tone:
Go Lighter? Or Load Up?
WHAT I GET OUT OF IT
: Turns out I need to be dialing up the weight on my Body Pump barbell.
No "Find of the Week" this time because now that I've mentioned one Les Mills class, I feel the need to talk about another. Tonight will be my first Body Attack class with the latest release. Okay, maybe this is proof that I'm getting addicted to this exercise thing since I'm so excited for new tracks - but there are worse vices a girl could have, right? Here's a breakdown of what I can expect to be put through tonight:
We'll kick off with the huge hit Evacuate The Dancefloor and then Don't Upset The Rhythm as you'll Pony your way through Track 2.




Are You Gonna Go My Way? Track 4 brings an inspiring Rock feel that will push you to your first cardio peak, blocking high balls on the volleyball court. Do you like Track 5? I know I Like It! This song will motivate you through all those Push Ups and the Superman stability training.




Game on in Track 7! Get ready for some true American football training with the Dodge Hops and the Heisman, to fend off your opponents. The sports-inspired training is all about improving your speed, agility and fitness. Are you in?




Next, feel the Freedom in the Interval Track. Keep your posture strong and give it all you've got in the Knee & Kick Combo. The options are there if you need them.




You are the champion in Track 9. Keep on fighting till the end! We've got some intense work targeting your legs, butt and core before we Cooldown to Hold My Hand.**
Doesn't that sound like fun? (Now if it does, and you actually live closeby, come with me! It's free this week)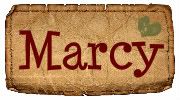 **From Totally Les Mills (
http://www.totallylesmills.com/site/BODYATTACK
)